CONNECTING PEOPLE, PLACES & EXPERIENCES
Middlesex County Connect is an inter-community transit service that connects our local municipalities in Middlesex County to one another and to London, Woodstock and Ingersoll. It caters to the needs of seniors, students, youth, workers, and persons with disabilities, allowing them to easily access amenities in their hometowns as well as neighboring communities. 
Middlesex County Connect operates two (2) bus routes Monday to Friday:
Route 1: Lucan, Ilderton, Arva, London, and back
Route 2: Woodstock, Ingersoll, Putnam, Dorchester, London, and back
All our buses are wheelchair accessible with high floor ramp access, two (2) wheelchair spaces and equipped with a wheelchair lift. Buses also have a front mounted bike rack that can carry up to two (2) bikes.
For only $5 one-way, residents can access post-secondary institutions, employment, medical appointments, social programs, visit friends and family, and connect with other inter-community transit services and local transit services such as London Transit (LTC) and Woodstock Transit. Children 5 and under, support persons, and veterans can ride free of charge.
Enjoy our affordable and accessible weekday service on fixed routes and schedules. Click here to see when the bus will be arriving at a stop near you!
Let us connect you to the places, experiences, and people that matter most! 
Watch the below videos for a glimpse into everything Middlesex County Connect has to offer!
---
Contact Us
 1-888-465-0783
Monday to Saturday: 9:00 a.m. to 5:00 p.m.
* If outside service hours, please leave a message and staff will return your call as soon as possible. 
Anum Maqsood
Community Transportation Project Manager
County of Middlesex
519-520-5886
@email

Cindy Howard
General Manager Finance and Community Services
County of Middlesex
@email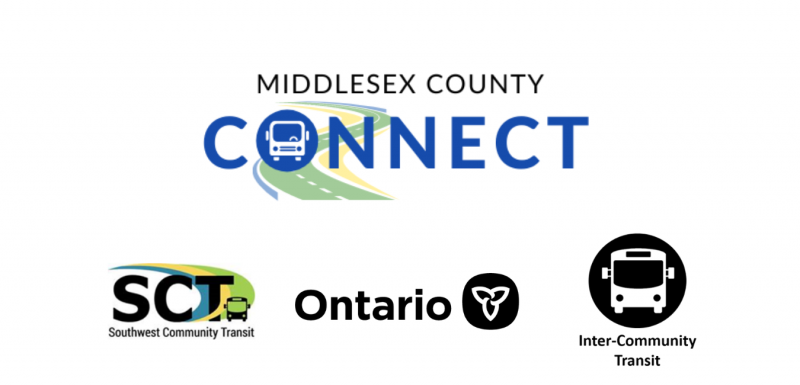 Middlesex County Connect has been made possible through funding provided by the Government of Ontario's Community Transportation Grant Program.