Posted Date
February 2, 2023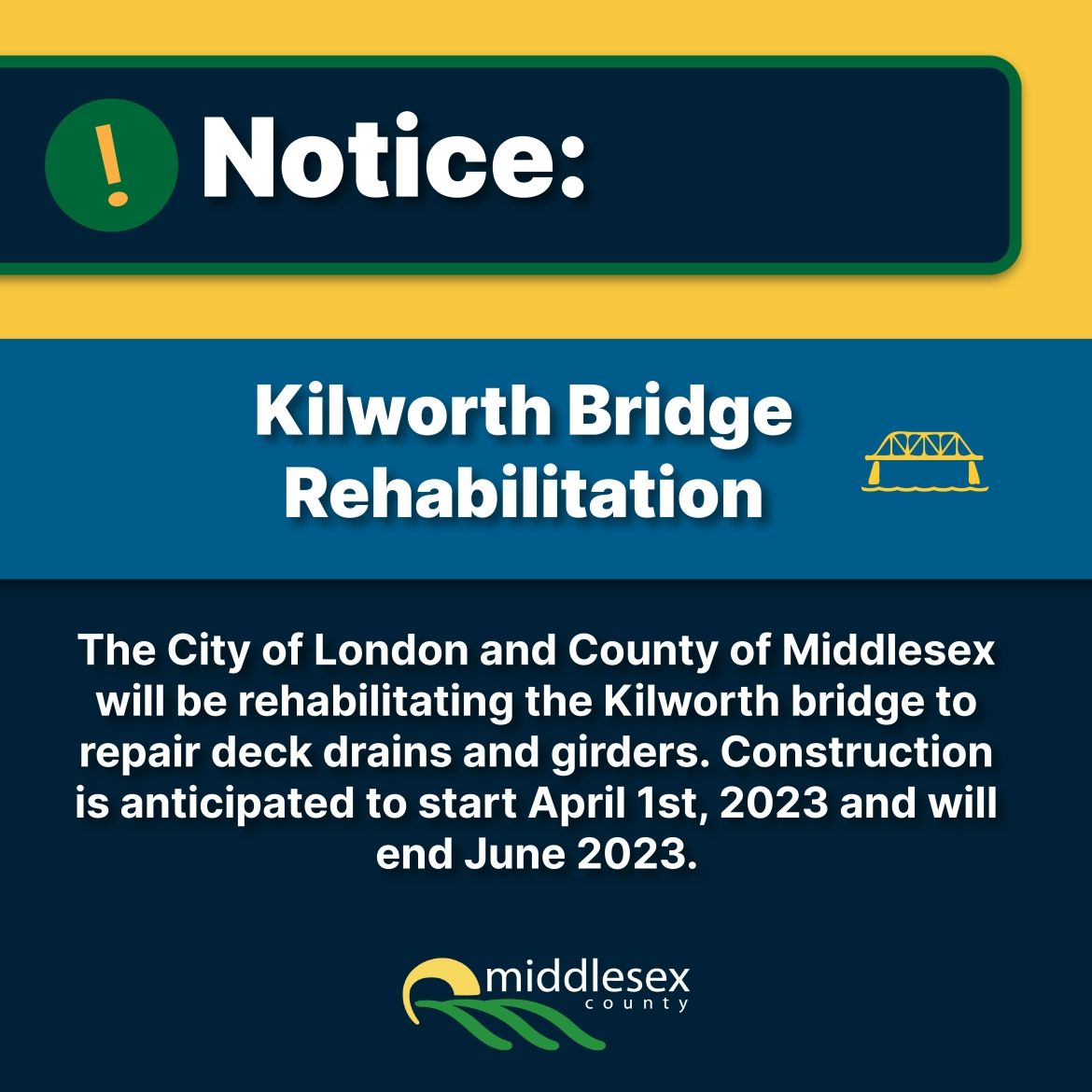 The City of London and County of Middlesex will be rehabilitating the Kilworth bridge to repair deck drains and girders. During construction, travel across the bridge will be reduced to a single lane of alternating traffic to provide safe space to complete the work. This letter provides information about the project.
Project Location:
The map below shows the project limits for the work occurring on the Kilworth Bridge.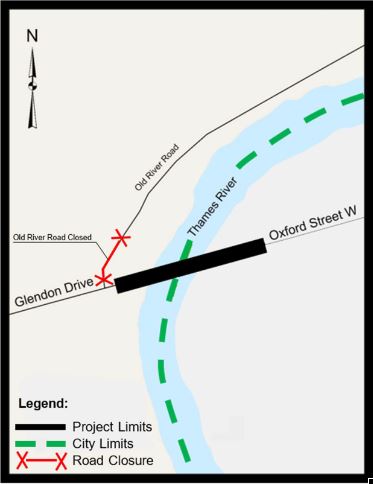 Construction Work to be Completed:
Repairs to the bridge deck drains and girders.
Install and maintain wildlife exclusionary measures on the bridge and along the riverbanks during construction.
Anticipated Project Timeline:
The bridge rehabilitation is expected to take approximately 8 weeks from the start of construction. The
anticipated construction schedule is listed below:
Installation of wildlife exclusionary measures: March 1st, 2023
Construction starts: April 1st, 2023
Construction ends: June 2023
Transportation Impacts:
The bridge will be open to all motorists and cyclists in both directions. Travel across the bridge will be limited to a single lane of alternating traffic controlled by temporary traffic signals. Motorists should be prepared for some traffic delays. Old River Road will be closed at the Glendon Drive intersection. A detour will be posted.
Detour Plan:
The detour for the closure of Old River Road at Glendon Drive is shown below.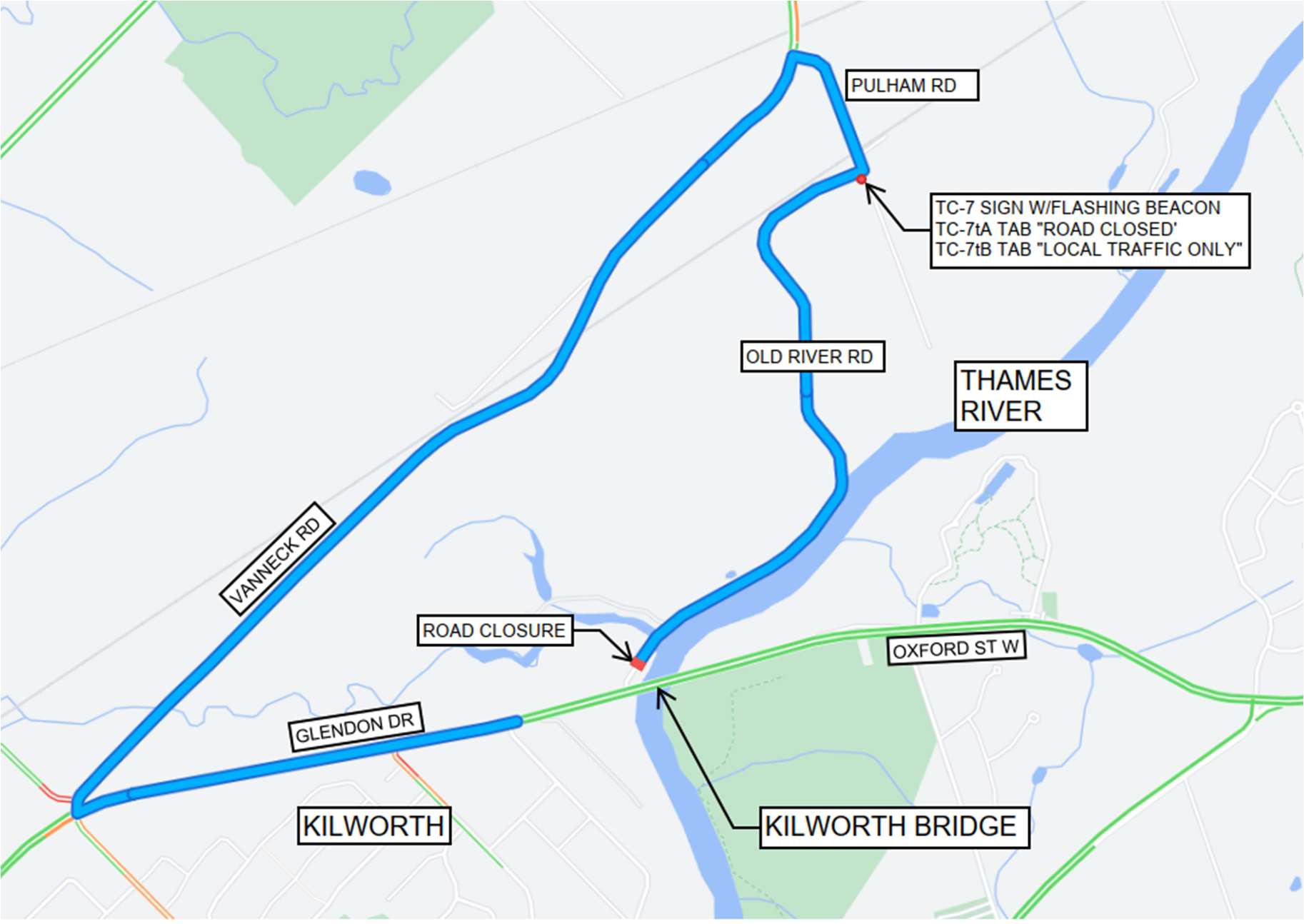 Contact Information:
The City is committed to keeping you informed during the project. Please reach out to your City Project
Manager at any time.
City Project Manager
Name: Steven Funk
Phone: 519-661-(CITY) 2489 Ext. 2342
Email: @email
Consultant
Name: Ryan Hunt
Phone: 519-566-2331
Email: @email
Contractor
Organization: Urbanlink Civil Ltd.
After hours or urgent matters:
Name: City of London DispatchPhone: 519-661-4965
Email: @email
Project Updates:
Renew London Interactive Map
Use the interactive map on Renew London (london.ca/roadwork) to search your street name to find
current information about your construction project and other city-wide road work.
Waze Navigation App
Download Waze (waze.com), a free traffic and navigation app with local road closure information and
real-time traffic alerts to get navigation assistance on the go.
Thank you in advance for your cooperation. We look forward to completing these upgrades in your
area as we work towards building a more sustainable city.
Sincerely,
Andrew Denomme, P.Eng.
Transportation Design Engineer
Transportation Planning & Design
City of London
c: Kelly Scherr, Deputy City Manager, Environment & Infrastructure
Chris Traini, Deputy CAO/County Engineer, County of Middlesex
Councillor Anna Hopkins (Ward 9)