Middlesex County Connect
Thames Centre + Oxford County  + City of London

 
Service Alert: Bus Stop Notice
Route 2: Due to Construction on Hamilton Road, we are temporarily unable to service the bus stop located at the entrance of Dorchester Municipal Office parking lot from Monday March 20, 2023 – May 2023.
The following stops are available for use in Dorchester on Route 2:
- Catherine Street (Catherine St. west of Bridge St)
- Near Woodvale Drive (Woodvale Dr./Foxhollow Dr.)
- Near Oakwood Drive (Oakwood Dr./Byron Ave.)
- Flight Exec Centre (Flight Exec Centre Parking Lot - south side)
- Near Mill Rd (Wheeler Ave./ Mill Rd.)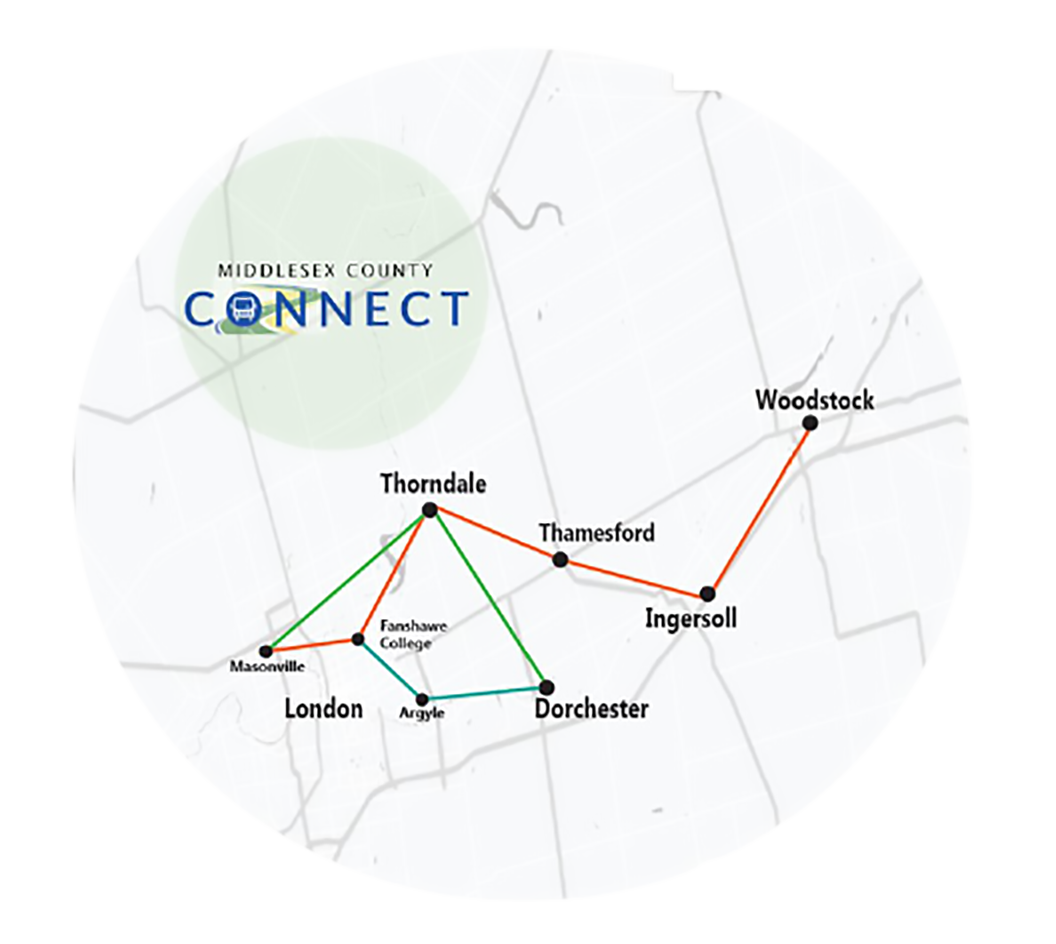 For the latest information on cancellations & service updates, riders are encouraged to:
Call 1-888-465-0783 to ask about service cancelations (live operator 9am to 5pm daily).
Sign up for E-Alert by clicking here and get service interruption notifications in your inbox.
Please select "Middlesex County Connect Bus" from the list when signing up.
Check our website and social media.
  Watch for a glimpse into everything Middlesex County Connect has to offer! 
---
*The information on this page is the most recent route, stop location, schedule, and fare structure. This information is subject to change based on user feedback and monitoring rider usage. Please check this page frequently for service updates.*
Fares

 

Exact cash fare is required. Bus drivers do not carry change. Debit, credit, Apple Pay, and Android Pay also accepted. Tap OR chip cards are accepted.

All one-way rides: $5.00 

Children 5 and under: FREE

Support persons: FREE

Veterans: FREE

 
Schedules
***Check the route schedule, arrive at the bus stop 5 minutes beforehand and be sure to be in plain view of the Bus Operator.  Have your cash ready. Remember Bus Operators do not make change - exact fare of $5.00 is required.  Use hand rails when entering and exiting the bus and be sure to have all your belongings when entering and exiting the bus.***
Route 1: Woodstock - Ingersoll - Thamesford - Thorndale - London 

Operates Monday to Friday
Route 2: Dorchester - London

Operates Monday to Friday

***Due to Construction on Hamilton Road, we are temporarily unable to service the Dorchester - Municipal Office bus stop from Monday March 20, 2023 – May 2023.
Route 3: ON-DEMAND Dorchester - Thorndale - London

Operates SATURDAYS only

Our Saturday afternoon route provides direct, on-demand connections between all of our Dorchester, Thorndale, and London stops, any time between 11:00am and 3:00pm. To book your ride, just call 1-888-465-0783, in advance or ASAP!

Travel between these communities for your leisure and shopping needs, grab lunch at a local restaurant, or explore a new area on foot for the day! Let us get you where you want to go, when you want to go!

 
Covid-19 Health and Safety 

Starting Saturday, June 11, 2022, masking will no longer be required in most settings across Ontario, including public transit.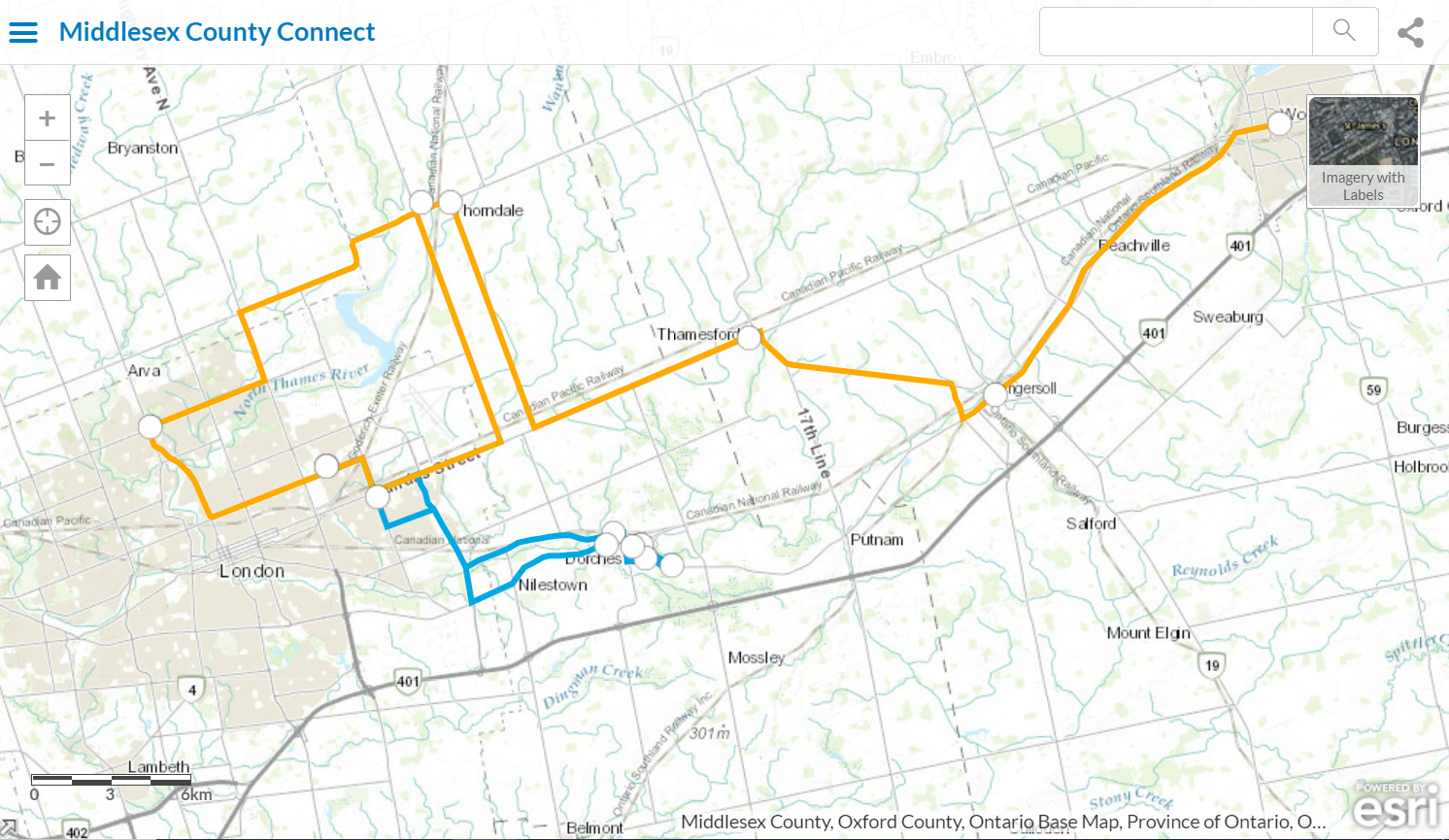 Bus Stop Map and Locations
Use this interactive web map by clicking on your bus stop to see stop descriptions and scheduled times.
View the Middlesex County Connect Map
To access map images of stop locations for both routes, please see the documents below.
Route 1 Stop Locations: Woodstock, Ingersoll, Thamesford, Thorndale, and London