Posted Date
August 29, 2022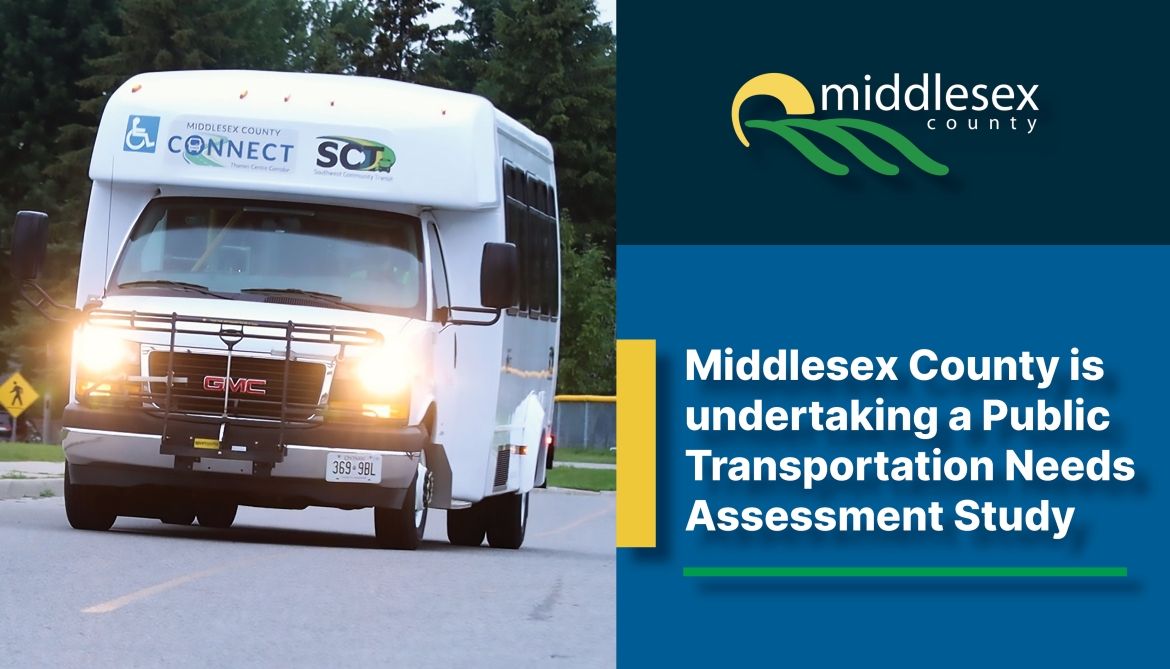 FOR IMMEDIATE RELEASE:
Middlesex County is undertaking a Public Transportation Needs Assessment Study
Have your voice heard and help shape the vision, goals, and design of a future Middlesex County transit service
MIDDLESEX COUNTY on August 29, 2022: Middlesex County is undertaking a Public Transportation Needs Assessment Study to examine possible transit solutions for County residents, workers, students, and visitors. The objective of the study is to review existing services, identify local travel needs, and develop a plan to address the needs identified.
This study was made possible by federal funding under the Permanent Public Transit Program - Rural Transit Solution Fund. The funding will allow for a thorough transportation review and needs assessment to take place in order to create an accessible and sustainable transit system in Middlesex County.
The Middlesex County Transportation Needs Assessment Study will address the issues, gaps, and opportunities that exist across all Middlesex-based municipalities for improvement in public transit.
By collecting data at the community level from each municipality, this study will enable the County to understand the specific needs of each community as well as how they overlap and connect with each other and surrounding areas. 
You can complete the survey at https://middlesex.ca/living-here/community-transportation/middlesex-county-transit-survey. The deadline to complete the survey is Friday, September 16, 2022.
QUOTE:
"Middlesex County is committed to creating an accessible transit system for its rural residents. A rural public transportation system will increase access to education, employment, and health care. It will also create advantages for economic development, workforce development, tourism, and promote growth across the County. We encourage all County residents, business owners, and stakeholders to engage in this study so that we may develop a transit service that will help serve all Middlesex County communities."
-Alison Warwick
-30-
Middlesex County is an innovative, well-run organization offering high-value programs and services to the best community in which to live, visit, and do business in Southwestern Ontario. The County serves a vibrant, growing community of 78,000 people and offers a great place to call home, offering an exceptional lifestyle, a wide variety of local attractions, and a wonderful sense of community.
MEDIA CONTACT:
Middlesex County
Media Relations Legislative Services Division