Posted Date
September 13, 2023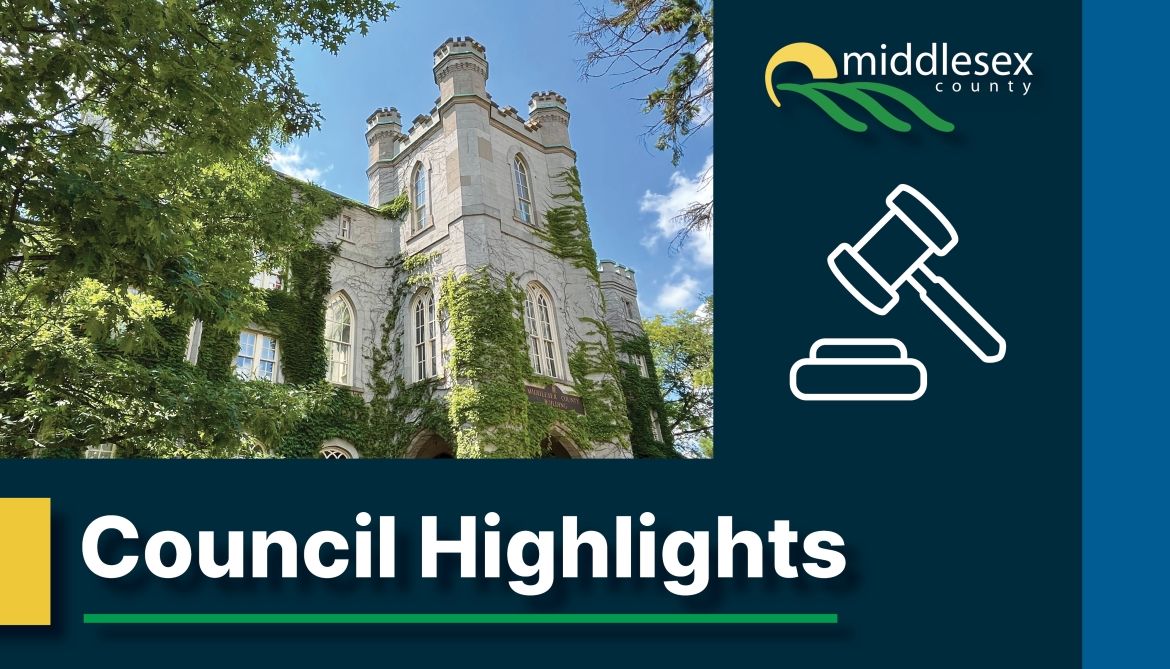 Middlesex County Council Meeting Highlights - September 12, 2023
Council Highlights is an informal summary of selected actions taken by Middlesex County Council or Committee of the Whole at business meetings. The Council Highlights are not an official record of County Council proceedings. To view official agendas and minutes, please visit Council Meetings and Minutes.
Middlesex London Paramedic Service Training Camp 2023
The Committee of the Whole heard a presentation from Middlesex London Paramedic Service (MLPS) staff regarding the success of their Paramedic Training Camp. The Paramedic Summer Camp is an immersive five day camp designed to introduce high school students (aged 15-17) into the world of paramedicine, offering them a valuable experience to explore potential career paths. The week-long camp was filled with hands-on experience, and collaborative workshops with allied 911 agencies. MLPS has been offering this unique camp experience for six years, with key goals including engaging with the talented youth in our community, inspiring other paramedic services in Ontario to launch similar programs, and fostering collaboration with allied agencies beyond the emergency context. Since 2015, a total of 88 students have successfully completed the MLPS Paramedic Training Camp. For more information, see the MLPS Paramedic Training Camp presentation.
Middlesex County Making Strides towards Future Growth and Innovation
The Committee of the Whole received an update on the 2021-2024 Strategic Plan. Middlesex County has made remarkable progress under the framework of "The Middlesex Initiative: Breaking New Ground," a robust strategic plan spanning 2021-2024. This comprehensive plan has encouraged strides in critical core service areas. With over 1,053 strategic actions completed, the County continues to innovate, modernize, and collaborate, embracing growth and opportunity for a promising future. Check out The Middlesex Initiative: Breaking New Ground – 2021-2024 Strategic Plan to learn more about Middlesex County's strategic priorities.
Draft Plan Approval for Subdivision development in Parkhill
Council considered a proposed residential plan of subdivision for a 9 hectare (23 acre) property within Parkhill. The development, which was recently supported by the Municipality of North Middlesex, would create 98 lots for single detached dwellings and 10 medium density blocks that could in the future, be developed for a total of 66 street-facing townhouse units. The Committee adopted a recommendation to approve the draft plan of subdivision, subject to conditions. For more information, see the September 12, 2023 Agenda.
2024 Meeting Dates Announced
Each year, County Council distributes a calendar that outlines Council and Library Board meetings, as well as conferences for the upcoming year. The Committee of the Whole approved the 2024 County Council and Library Board meeting schedule as presented by staff. For more information, see the proposed meeting schedule.
Increase to Nurses' and Homemakers Services
The Committee of the Whole approved the rate increase for Nurses' and Homemakers Services in Middlesex County. The Homemakers and Nurses Services program provides services, such as light housekeeping, laundry, shopping, and meal preparation to low-income individuals in the community who require assistance with household daily living. This program is provided by ParaMed Home Health Care, who annually, increase their rates to reflect their service needs. In October 2022, ParaMed increased its PSS rates to $35.19 from $31.44. Effective August 1st, 2023, ParaMed has indicated the PSS service rate will increase to $41.21. The program is funded 80% by the Ministry of Health and Long-Term Care. For more information, see the Increase to Nurses' and Homemakers Services staff report.
Children's Services Update
The Committee of the Whole received an update on Children's Services and various ongoing projects. Over the past year, the Child Care and Early Years system has undergone significant changes with the implementation of the Canada-Wide Early Learning and Child Care (CWELCC) agreement. This initiative aims to make child care affordable for families across different financial situations in Middlesex County. Notably, Middlesex County has approved 16 licensed childcare organizations to offer the CWELCC program, leading to fee reductions for families in November 2022 and January 2023. The Access and Inclusion Framework, launched in March 2023, is driving the creation of new licensed childcare spaces, with the Ministry of Education allocating 2,889 spaces for London and Middlesex by 2026. To support this growth, the Ministry has introduced Start-up Grants to aid in space creation by offsetting costs. Additionally, the River Heights Child Care and Family Centre is on track to open its doors in September 2023. For more information, see the Children's Services Update and see Children's Services for information on Child Care Programs in the County.
Recommendations made by the Committee of the Whole at the September 12, 2023 meeting will be considered by County Council at its next regular meeting on September 26, 2023. The Legislative Services Department maintains the official record for all County government proceedings.