Posted Date
August 23, 2022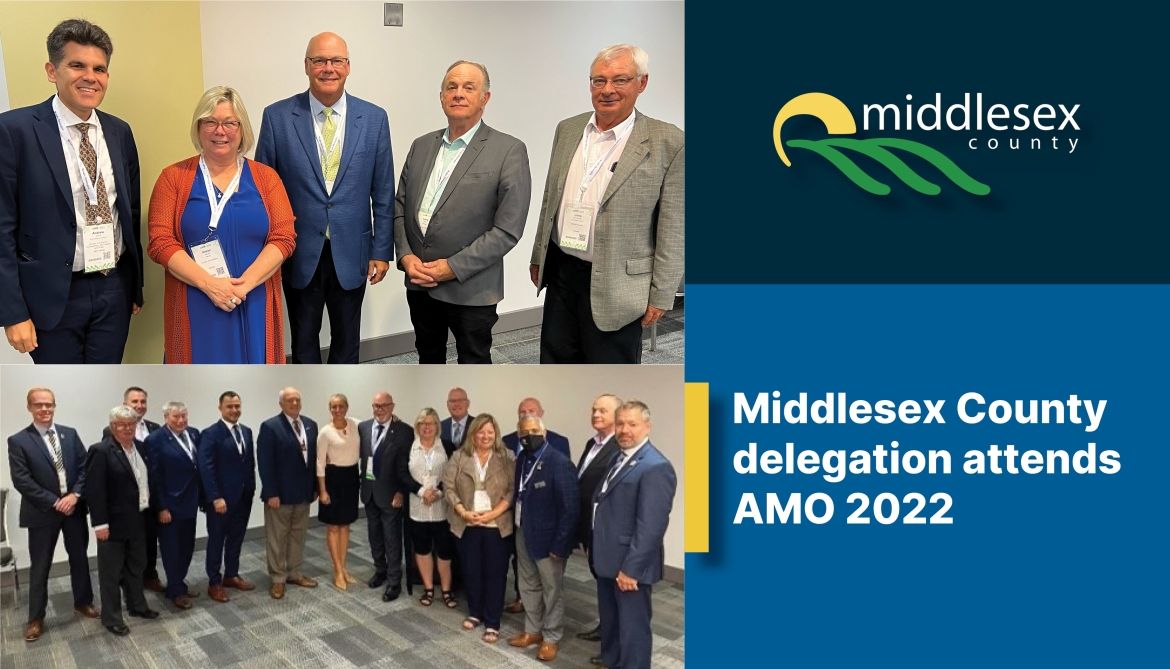 MIDDLESEX COUNTY (August 23, 2022): Last week, Middlesex County attended the Association of Municipalities of Ontario's (AMO) 2022 conference in Ottawa where delegates met with provincial government officials to address some of the County's most pressing concerns. The conference was held in person after two years of virtual discussions due to the COVID-19 pandemic.  
The Middlesex County delegation, which included Warden Alison Warwick, members of County Council, and members of senior staff, met with Cabinet Ministers, MPPs and industry stakeholders to address some of the biggest issues currently facing the County. These included Child Care and Early Years funding, Housing and Homelessness, off-load delays and land ambulance dispatch. The County's delegates addressed funding disparities in social service programs, promoted housing affordability, lobbied for continued investment in infrastructure, and discussed solutions to province-wide labour gaps and shortages.
The County attended meetings with Deputy Premier and Minister of Health, Sylvia Jones, Associate Minister of Mental Health and Addictions, Michael Tibollo, and Parliamentary Assistant to the Minister of Education, Patrice Barnes.
Collaboration with the City of London, the Western Ontario Wardens' Caucus (WOWC) and the South Central Ontario Region (SCOR) was a fundamental part of the County's advocacy this year. The County shares a number of priorities with the City of London and neighbouring counties and remains committed to advancing these priorities alongside its regional partners.
QUOTE:
"Municipalities are an important component of Ontario and Canada's political systems. We will continue to advocate for Middlesex County by working collaboratively with the City of London, our regional partners, and all levels of government to advance our region and our shared priorities." - Warden Alison Warwick
-30-
Middlesex County is an innovative, well-run organization offering high-value programs and services to the best community in which to live, visit, and do business in Southwestern Ontario. The County serves a vibrant, growing community of 75,000 people and offers agreat place to call home, offering exceptional lifestyle, a wide variety of local attractions, and wonderful sense of community.
MEDIA CONTACT:
Middlesex County Media Relations Legislative Services Division @email