Posted Date
July 21, 2022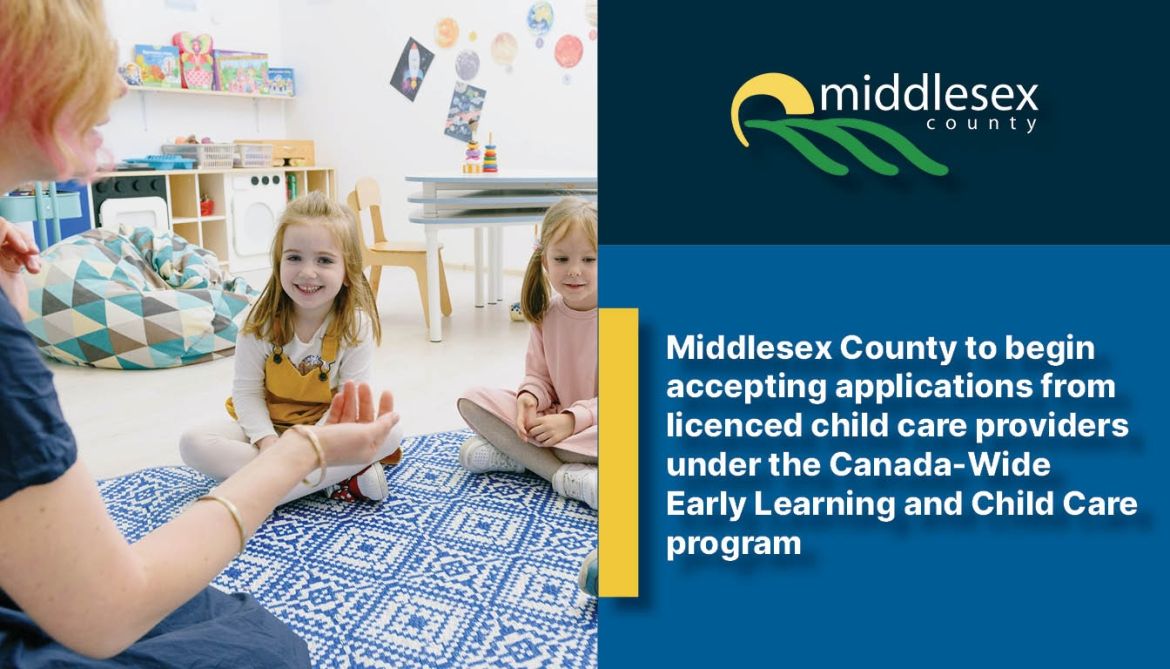 FOR IMMEDIATE RELEASE:
Middlesex County to begin accepting applications from licenced child care providers under the Canada-Wide Early Learning and Child Care program
Details on the application process will be released on the County's website July 19, 2022.
MIDDLESEX COUNTY (July 19, 2022): On July 19, 2022, Middlesex County announced details on the launch of the Canada-wide Early Learning and Child Care (CWELCC) program in Middlesex County.
In March 2022, the federal and provincial governments entered into the Canada-Wide Early Years and Child Care Agreement with a view to making licensed child care more accessible and affordable for families across the Country.
In Ontario, the CWELCC program will be implemented using a phased-in approach with a 25% fee reduction retroactive to April 1st being paid to families whose Child Care operators are participating in the program, with a further 25% reduction by December 2022. The program is also expected to provide a wage floor for qualified Registered Early Childhood Educators, in the hopes of attracting, and retaining ECEs, who play a critical role in the provision of child care and early childhood education.
Licenced childcare providers in Middlesex County can apply to take part in the CWELCC beginning July 19, 2022. Centres will have until September 1st, 2022 to provide their intent to opt in or out of the program, with completed applications being accepted until September 30, 2022.
For more information please visit middlesex.ca QUOTE:
"The roll-out of the Canada-Wide Early Learning and Child Care program in Middlesex County is incredibly exciting for families, children and licenced child care centres in our communities. We recognize that accessing affordable licenced child care has become increasingly difficult and we hope that this program, and the anticipated investment in competitive wages for Early Childhood Educators, will help to eliminate this challenge and transform this vital sector." -Warden Alison Warwick
-30-
Middlesex County is an innovative, well-run organization offering high-value programs and services to the best community in which to live, visit, and do business in Southwestern Ontario. The County serves a vibrant, growing community of 75,000 people and offers a great place to call home, offering exceptional lifestyle, a wide variety of local attractions, and wonderful sense of community.
MEDIA CONTACT:
Middlesex County Media Relations Legislative Services Division @email