Posted Date
November 8, 2023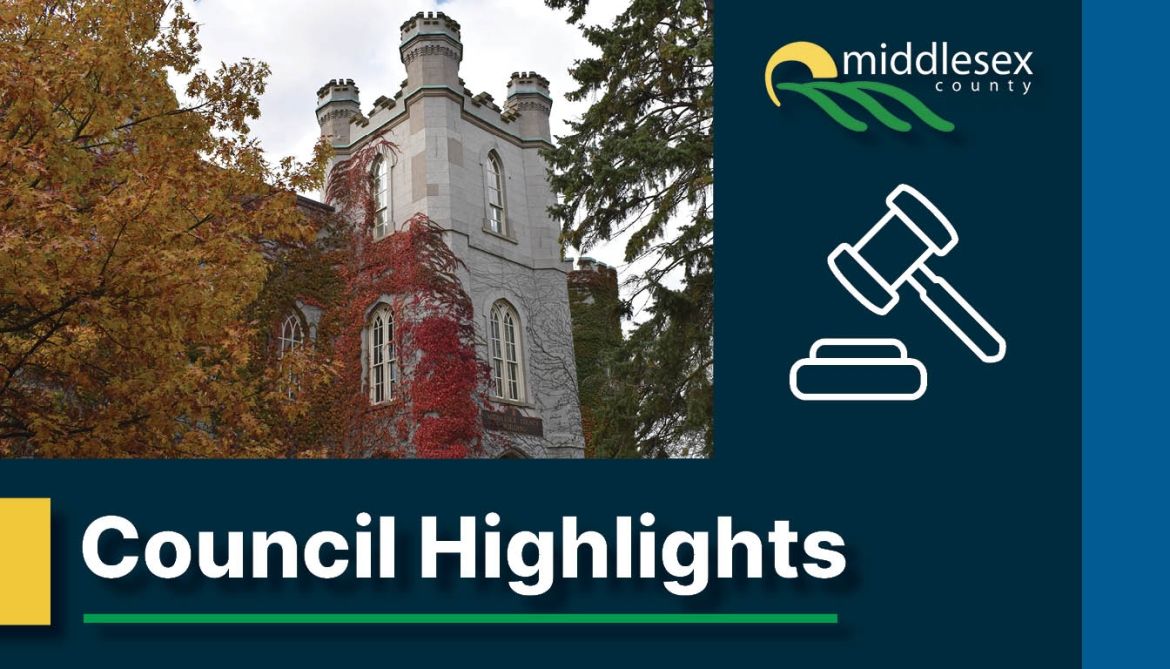 Middlesex County Council Meeting Highlights – November 7, 2023
Council Highlights is an informal summary of selected actions taken by Middlesex County Council or Committee of the Whole at business meetings. The Council Highlights are not an official record of County Council proceedings. To view official agendas and minutes, please visit Council Meetings and Minutes.
MLPS Overview and Operating Pressures Update
The Committee of the Whole received an update from the Middlesex-London Paramedic Service (MLPS) with respect system pressures and operational challenges. MLPS staff reported that the Service is projected to respond to more than 120,000 calls in 2023. Ongoing system pressures include call volume and complexity, offload delays, dispatch and additional system impacts. MLPS is strategically working towards ownership of call answering, clinical triage, and dispatch systems to enhance operational response and patient outcomes. As MLPS actively advocates for healthcare transformation, their strategic review of resource deployment aims to optimize efficiency, ensuring advanced resources match specific call needs. For more information, see the MLPS Service Overview and Operating Pressures presentation.
Draft Plan Approval for Industrial Subdivision development in Thames Centre
The Committee of the Whole considered a proposed industrial plan of subdivision for a 22 hectare (55 acre) property within the Donnybrook Industrial area near Dorchester. The development, which was recently supported by the Municipality of Thames Centre, would create 8 blocks for industrial use. The proposal would also include blocks for stormwater management, a future right-of-way, road widenings, and reserves. The Committee adopted a recommendation to approve the proposed plan of subdivision, subject to conditions. For more information, see the November 7, 2023 Agenda.
County to be registered as a Rainbow Registered Program
The Committee of the Whole approved a recommendation directing staff to register Middlesex County in the CGLCC – Rainbow Registered Program. The Rainbow Registered Program, a CGLCC initiative, certifies organizations, businesses, and local governments as 2SLGBTQI+ friendly. For Middlesex County, this registration signifies more than a certification; it's a commitment to being an inclusive workplace and a community partner. As the region's Destination Marketing Organization (DMO), the Middlesex County Economic Development and Tourism Department leads by example, advocating for Rainbow Registration among local businesses. For more information, see the CGLCC – Rainbow Registered Program report.
County Council honours Middlesex County and MLPS Long Service award recipients
Following the County Council meeting, County Council members joined staff from Middlesex County and Middlesex-London Paramedic Service in celebrating their remarkable long-term service. Council took this time to express heartfelt gratitude for the professionalism, dedication, care and support that staff provide to the communities throughout Middlesex County and London on a daily basis.
Recommendations made by the Committee of the Whole at the November 7, 2023 meeting will be considered by County Council at its next regular meeting on November 21, 2023. The Legislative Services Department maintains the official record for all County government proceedings.
For more information please contact: @email