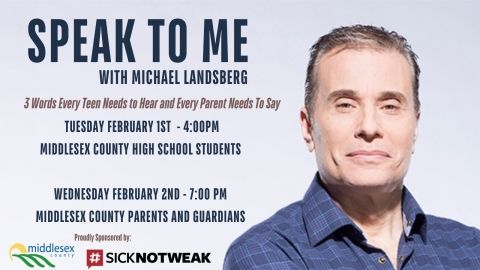 Middlesex County is excited to team up with the SickNotWeak Foundation to have Michael Landsberg virtually come to Middlesex County in a two-night, back-to-back event to break the ice and talk about mental health – specifically for young people. The first evening will be open to high school students across Middlesex County, and the second night will be geared specifically to parents and guardians about talking to youth about their mental health.
Michael Landsberg was the host of Off The Record on TSN. In 2009, he shared live on his show his decade long struggle with severe depression and anxiety. He was shocked to find that simply sharing his story in a totally open way could change people's lives. In 2016, he founded the #SickNotWeak Foundation and began professionally speaking about breaking the stigma of mental illness.
To register for the "Speak To Me: 3 Words Every Teen Needs To Hear and Every Parent Needs To Say" event, please see the links below.
High School Students - Tuesday February 1 at 4:00pm: REGISTER HERE
Parents/Guardians - Wednesday February 2 at 7:00pm: REGISTER HERE 
Wednesday, January 12, 2022 - 4:00pm