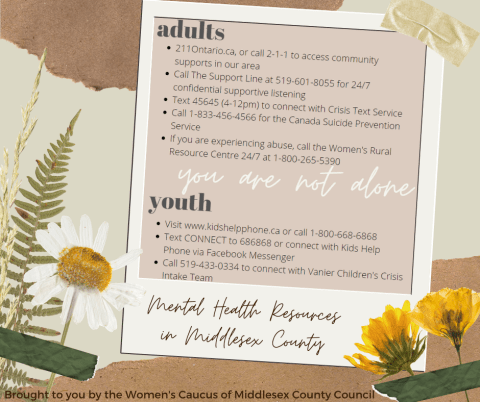 One month ago, the Women's Caucus of Middlesex County Council held its very first webinar, inviting women from across Middlesex County to share their experiences during the COVID19 pandemic. Women shared their stories of caregiver burnout, guilt, increased anxiety, and feelings of isolation. 
On December 21st, 2020, Premier Doug Ford announced a provincial shut down lasting a minimum of 28 days beginning on December 26th, 2020. Many of these continued demands on women have not been addressed moving into the second wave of the pandemic. 
The Women's Caucus wants Middlesex County residents to know they are not alone during these difficult times. Please see the attached media release highlighting available community supports across the County. Links to additional community supports can be found on the County of Middlesex's website at www.middlesex.ca/covid19.
File Attachment
Wednesday, December 23, 2020 - 4:15pm