There is so much to see, do, and discover throughout the County of Middlesex, so we've compiled some of our most popular maps, guides, and local resources here for you. Whether you're looking for contact information, local produce options, or recreation ideas, you'll find it in these maps and guides.
Middlesex Map
The County of Middlesex is pleased to announce the launch of the new Middlesex Map. In an effort to provide high quality mapping services to County residents, this new map service provides all the same features of the previous Middlesex Map but also includes new features to enhance the user's experience. The County will continue to enhance the mapping services provided in Middlesex Map in the coming weeks and months, and welcomes your feedback and comments.
Search for addresses, streets, attractions, schools, community facilities and so much more.
Terms & Conditions for Middlesex Map
Middlesex Map FAQ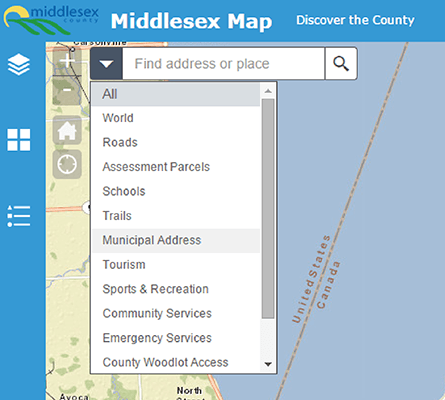 To search local municipal addresses, click on the drop menu button, on the search bar. All the searchable items will appear. Select 'Municipal Address' to search local addresses within the County of Middlesex.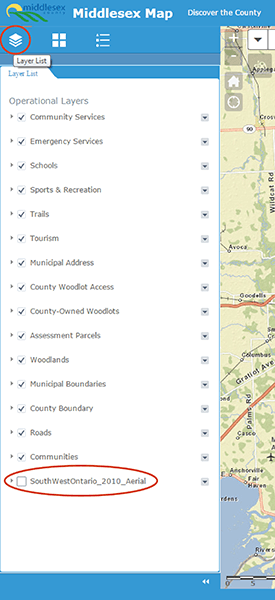 Open the Layers List widget, which is the icon located at the top left of the page (hover your cursor over the icon, and the name of the widget will appear). Uncheck the 'SouthWestOntario_2010_Aerial' layer. The air photo layer will no longer show on your map.
County of Middlesex in Google Maps
Some of the County of Middlesex's mapping information is available for using with Google mapping applications.  Below, you will find a list of mapping layers available in KML format.  KML (Keyhole Markup Language) is the file format in which geographic information is displayed on Google mapping applications, such as Google Earth and Google Maps.
From the table below, you can download KML files, open the files in Google Earth or open the files on Google Maps.
Google Earth can be downloaded for free from http://www.google.com/earth/
By clicking the links below you are agreeing to these Terms and Conditions
| | | | |
| --- | --- | --- | --- |
|   | View in Google Earth | View in Google Maps | Download KML |
| Municipal Boundaries | | | |
County Maps
You can purchase 2011 Road Maps at all County library branches, local municipal offices, and at the County Building.
View the front of map (PDF)
View the back of map (PDF)
Photo Gallery