Theme 2 of The Challenge is entitled Water Does Wonders!  This theme runs from July 2016 to June 2017. This theme encourages kids and families to drink more water. Water is the natural and free choice for kids to stay hydrated. In turn, healthy hydration is an important component of healthy eating as a whole. 
During Theme 2, communities will be working to support healthy hydration for children and families through campaigns, policies, programs, and environmental supports. Communities have an important role to play in educating families about healthy drink habits and choices. Communities can also contribute by making fresh drinking water easy to access and appealing wherever kids spend time.
Water is essential for good health. It is also a simple, convenient, and low-cost option for quenching thirst. Let's encourage kids and families to make water their first choice to drink with meals and throughout the day.  
Photo Contest! 
In January 2017 we invited  families to submit fun and creative photos of children who are residents of the County of Middlesex of children enjoying the Wonders of Water!
Thank you to Jeanette Wielinga from Strathroy and Mikayla Thomson from Lucan for your photo submissions & for supporting the promotion of #waterdoeswonders! They were our lucky winners of a Bento Lunch Box kit and grocery gift card.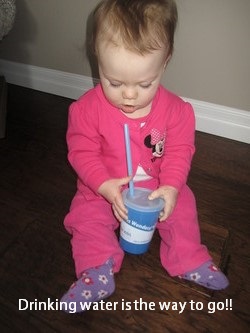 Your Guide to Healthy Drink Choices! 
Water is the best option for kids to stay healthy and hydrated - but there are so many drinks to choose from! Here is a guide to help you make healthy drink choices.
Water Does Wonders Fact Sheets! 
You may also want to vist our Sugary Drinks tab for more information and resources.  
Why do we want kids to choose water?
Children need lots of water to stay hydrated and healthy. Water makes up more than half of a child's weight. A steady supply is necessary to keep bodies working properly. Water contains no sugar, calories, additives or caffeine, making it the smart choice for sipping throughout the day. 
As children get older, they are likely to consume more sugar-sweetened drinks. 
Sugar-sweetened beverages are a concern to children's health. They can replace more nutritious choices and contribute extra sugar to children's diets. In fact, sugar-sweetened beverages are the single largest source of sugar in most kids' diets. A single 355 mL can of sugar-sweetened pop contains up to 40 grams (about 10 teaspoons) of sugar and no health benefits.
Excess sugar intake is associated with other negative health outcomes such as an increased number of dental cavities, increased risk of heart disease, and increased risk of developing type 2 diabetes. It can also contribute to weight gain. 
Benefits of Water 
Our bodies are made up of approximately 60% water. We need water for many vital bodily functions. For example, we use water to:
Cool off by sweating
Carry nutrients (like vitamins and minerals) to different parts of our bodies
Carry waste (like carbon dioxide) out of our bodies
Digest food, maintain fluid balance, blood pressure and kidney health
Allow our muscles to work
We become dehydrated if we don't get enough water or other fluids. That is, we may feel tired and/or dizzy. We may have trouble concentrating. Some people get headaches. Some have a higher heart rate or get muscle cramps. 
How Much Water Do We Need?
Many people have heard they should drink at least 6 to 8 cups of water a day. Research has shown that you can drink less than this without any problem. What is most important is that a person drinks enough fluids to quench their thirst and feel hydrated.
Fluid intake can include food and a variety of beverages. But water is an excellent choice as it has no sugar and is generally free and easily available.
The amount of water that a person needs to drink every day is different for everyone. It will depend on a variety of factors including age, weight, and gender. Air temperature, humidity, a person's activity level and overall health are also factors.
Before, during and after any physical activity, kids need to drink plenty of water, especially in hot and humid weather. When exercising, a good goal is to drink ½ to 2 cups of water every 15 to 20 minutes.
How much water do infants and toddlers need?
It is recommended that infants be breastfed exclusively during their first 6 months to meet their needs for nutrition and hydration. Caregivers should avoid giving infants additional water unless advised to do so by their doctor. Juices and other liquids should be avoided. 
After 12 months of age, juice and sugar-sweetened beverages should still be limited. Caregivers should offer water when kids are thirsty. Parents are encouraged to continue to breastfeed their children to the age of 2, or even beyond, if desired. Breastfeeding may reduce an infant's risk of obesity later in life.
What's better: Tap or bottled water?
Tap water is often the best choice for drinking water.
It's free and widely available. It's as easy as turning on the tap.
It's convenient. It's easy to set out a pitcher during mealtime, at group activities or at community events. Kids can also carry a refillable bottle wherever they go.
It's good for the environment. It helps reduce the number of disposable plastic bottles going to the landfill. 
In Ontario, most tap water is clean and safe. The majority of Ontarians receive their water through municipal residential drinking water systems, which are regulated by government and is owned and maintained by municipalities. Strict standards have been developed and require municipalities to test their water sources constantly to make sure they are safe.   Results of tests show water systems in Ontario are of very high quality. 
How can families encourage kids to choose water?
Water is a great way to quench thirst! You can add flavour to water by adding fresh fruit or vegetables, such as slices of oranges, lemon, berries, and cucumbers. This is a quick and easy way to reduce the amount of sugar a child is consuming while ensuring they are getting the proper amount of hydration. Check out the SipSmart!™ Ontario Flavoured Water Recipes for ideas! 
Here are some other ways to encourage healthy eating and drinking behaviours in children and families.
When parents and caregivers make healthy drinks like water the norm at home, kids are more likely to make healthy drink choices throughout the day.
Community members and program staff can also be important positive role models by consuming healthy foods and drinks in the presence of kids. Consider taking the role model pledge! 
Encourage children to fill half their plate with vegetables and fruit. Teach kids that eating a piece of fruit or cut up vegetables is a better choice than reaching for juice – they'll get important nutrients, fibre and will feel full longer.  
Research has shown that regular family meals are associated with positive health outcomes in children and youth. Encourage your community members to get in the habit of having regular family meals, away from television and screens when possible. Having more family dinners together is associated with lower consumption of soft drinks, sugar-sweetened beverages and sweets, and may have a positive impact on vegetable intake. Visit our partner agencies website for more information on family meals!
What about milk and 100% fruit juice?
Milk – Plain, unsweetened milk can be a healthy way to meet daily fluid needs and is a source of calcium and vitamin D.  It is recommended that children enjoy up to 500 ml per day. This is equal to 2 servings of milk or alternatives from Canada's Food Guide.  If a child cannot drink milk, unsweetened, fortified soy beverage is an alternative option. 
Cow's milk is not recommended for infants younger than 9-12 months, as it is low in iron and may displace iron-rich foods.  While 3.25% (homogenized) milk is recommended for children between 1-2 years, after 2 years children can switch to skim, 1% or 2% milk.
Fruit Juice – 100% fruit juice  – even those labelled 'no sugar added' - contain a lot of naturally-occurring sugar. Therefore children should limit their intake of fruit juice to once or twice a week. If a child has fruit juice daily, it is recommended that they limit to 125 mL or ½ cup. 
Drinking juice doesn't give one the same feeling of fullness as eating a serving of fruit or vegetables. Reaching for whole fruit or vegetables gives kids important nutrients and added fibre, and will keep them feeling satisfied longer.