First Step: Identifying Community Need
Community Partners have been working on completing a Community Needs Assessment to identify needs, gaps, resources, opportunities and assets to support the challenge.  This assessment will help guide local action!
Download the assessment ( PDF )
Or, you can view the interactive assessment by clicking on the image below: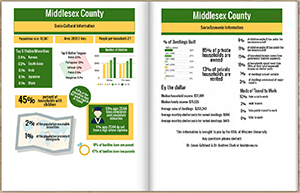 This profile provides 2011 and 2006 census data, Social Risk Index (SRI), and measurements of children's developmental health at school entry (2009 and 2006 Early Development Instrument (EDI)) for the following municipalities of Middlesex County: Adelaide Metcalfe, Lucan Biddulph, Middlesex Centre, Village of Newbury, Southwest Middlesex, North Middlesex, Strathroy-Caradoc, and Thames Centre. The Child and Family Community Profile is meant to provide organizations serving the municipalities in Middlesex County with information to support planning-related activities. 
Second Step: Take Action
Partners will deliver local activities focused on one specific theme related to healthy eating or physical activity every nine months for the next three years. 
For more information on the province's Healthy Kids Community Challenge or healthy behaviours for children, visit Ontario Healthy Kids.
Continue to visit this webpage for updates on activities and programs related to the challenge.