Theme 3: Choose to Boost Veggies & Fruit 
Starting April 2017 and over the next several months, our Healthy Kids Community Challenge community will be working to encourage kids and families to make vegetables and fruit a part of every meal and snack. Canada's Food Guide recommends children aged 2-13 years old eat 4-6 servings of veggies and fruit each day. However, we know kids and adults often fall short of this goal.
The Healthy Heroes Family
Introducing The Healthy Heroes Family featuring Eric Carrot a.k.a - Captain Crunchy, Bella Banana a.k.a Slippery Sidekick and
Theo Tomato a.ka. Super Saucy!
Congratulations to Mrs. Dixon and Mrs. Harding's Kindergarten Class and Mrs. Tischler's Grade 1 class from Caradoc Public School for their name submissions!
These veggies & fruit will support Healthy Kids throughout Theme 3 of The Challenge. Eric, Bella and Theo came together and made it their mission to have kids eat more vegetables and fruit. Each character has a special super power that helps kids think about eating more veggies and fruit to be healthy and strong.  They want to help inspire kids to be Powered by Veggies & Fruit!
How can you choose to boost veggies & fruit?
GROW IT:
◆ Choose from Ontario's 50 varieties of in season veggies & fruit.
◆ Visit a local farm or community garden & pick your own.
◆ Grow veggies & fruit at home, in a garden bed or containers.
TASTE IT:
◆ Encourage, support & praise your kids when trying different veggies & fruit.
◆ Continue to offer new veggies & fruit alongside familiar ones.
◆ Be a positive role model & let your kids see you eating veggies & fruit.
MAKE IT:
◆ Have your kids help wash & cut veggies & fruit. Cover tightly & store in the fridge.
◆ Involve your kids in preparing meals & snacks that include veggies & fruit.
◆ Stock up with frozen & canned veggies & fruit (without added sugar or salt).
EAT IT:
◆ Eat together as a family away from the television.
◆ Choose veggies & fruit as a snack. Include in school lunches.
◆ At dinner, fill half your plate with veggies & fruit – enjoy!
Produce Passport
Many children think they do not like vegetables and fruit, but often that is because they have not been introduced to a variety of produce or could benefit from continued positive exposure. 
To encourage Middlesex County children to try a variety of locally available vegetables and fruit, many preschool children through partnering child cares as well as all students from JK to Grade 3 will receive a Produce Passport this June.
The challenge? Each time a child tries one of the 32 featured vegetables and fruit, they can use one of the stickers provided to mark their passport. Once they have had a chance to try all 32, they can take their completed passport to a Middlesex County Library branch for a chance to win some great prizes.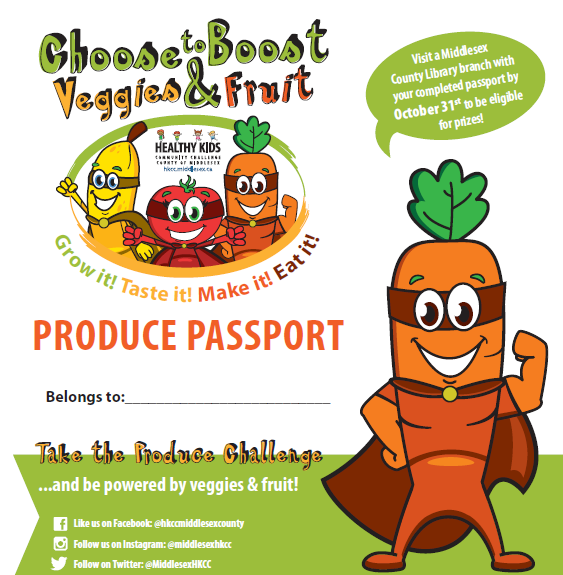 Taste it! Community Calendar
As an additional support, many of the Middlesex County library branches, Ontario Early Years Centre satellite sites and other community partners are offering taste testing through June to the end of August.  Enjoy a ride on the stationary bike to help blend a smoothie for tasting or try one of the featured veggies and fruit. Mark your calendar with these dates! 
Featured Veggie & Fruit of the Week! 
Starting in June, each week we will be showcasing a "Veggie & Fruit Feature of the Week". This will involve featuring different veggies & fruit that are available locally. These veggies & fruit will be showcased in social media, used in educational material including the Produce Passport, and presented during Taste it! Events in libraries and other community locations.  Click on the links below for more information on the featured veggie & fruit!
Parent Booklet 
This booklet contains tips on choosing, storing & preparing, as well as seasonal availability of each of the 28 featured veggies & fruit.   
Full Fact Sheets 
These fact sheets were developed by Half Your Plate and provide more details on each of the featured veggies & fruit.  Included as well is a recipe link from Foodland Ontario or Half Your Plate! 
Other Resources to support Theme 3! 
Helpful Links
For more information including recipe ideas & fun food facts visit: