Middlesex County EarlyON will be reopening in-person programs starting the week of March 16. For information on locations, dates, and times, click on the Drop-in Program Schedule Tab to find the Program Calendar.  
We continue to offer virtual programs as well. Information on these programs can be found on the Program Calendar. 
Updated February 23, 2021.   ​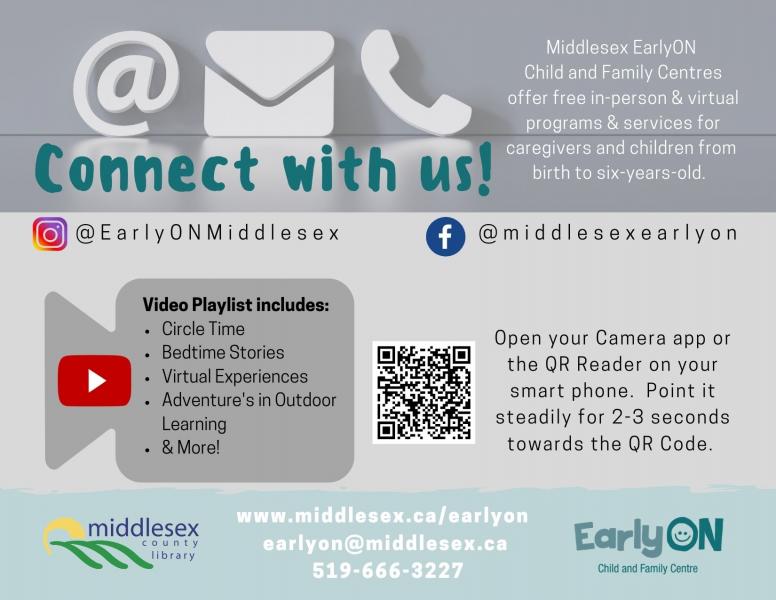 Middlesex EarlyON Child and Family Centres
An EarlyON Child and Family Centre is where children, parents and caregivers connect, learn and grow – together!
Middlesex EarlyON Child and Family Centres offer free programs for caregivers and children from birth to six-years-old. Our centres are open to all families. They are welcoming places that offer a range of services:
join fun activities – reading, storytelling, sing-alongs, games and more

get advice from professionals trained in early childhood development 

find out about other family services in your community

connect with other families with young children
EarlyON professionals offer a variety of free programs and services throughout Middlesex County. EarlyON programs provide play-based learning opportunities that allow children to develop their social and emotional skills, reach developmental milestones and begin their journey of lifelong learning.
Like & Follow us on our Facebook or Instagram pages for songs and stories,  parenting information, community resources and our most current in-person and virtual program information.
Find all our archived videos on our Youtube Channel.