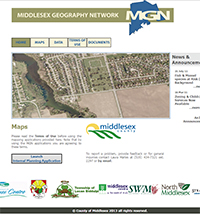 Were you looking for this ? This site has moved, please update your bookmarks for the old MGN website to our new address at :https://www.middlesex.ca/departments/mapping/internal-employee-access
Contact us to report a problem, provide feedback or for general inquiries.
Service Provider Data Use Agreement
The County of Middlesex can provide data to consultants working on behalf of an MGN municipal partner. Simply print a copy of the MGN Service Provider's Agreement and return a signed copy to the County for the data to be released to your consultant.  Be sure to specify on the agreement which mapping layers are required and attach a map or description of the area for which the data is needed. 
User Guides
Pop-Up and Permission Settings for the Google Chrome Browser